Eminent Lecture Series: Lecture on Challenges to National Security by Ambassador Abdul Basit
Ambassador Abdul Basit was invited by the DSS (Students) society for a lecture on National Security Challenges. During his talk, he highlighted the security challenges being faced by Pakistan and how it has been trying to address them. he mentioned that India being Pakistan's neighbour is our primary adversary and continues to destabilize Pakistan, influenced by its Kautaliyan mindset. Ambassador Abdul Basit lamented on the miserable conditions of the Indian Muslims residing in India and how India does not want Pakistan to be successful in her endeavours as it may become an example for the Indian Muslims and for this the former keeps on destabilizing Pakistan in one way or the other.
Talking on mutual distrust he stressed the problems cannot be settled between both the countries unless the issue of Kashmir is resolved. According to him SAARC could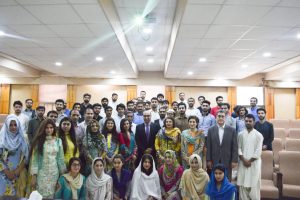 be utilized to mend relations between both the countries but SAARC was cancelled on the behest of India who used it as an alibi post the Pathankot and URI incident. He lauded Pakistan's efforts in the Pulwama incident which has given India a clear message that her incredible nuclear deterrence cannot be dented in any way and that we must retain the credibility of our deterrence. From compelance to deterrence Pakistan's nuclear deterrence has very much improved.
With regards Afghanistan, he stated that Kabul is being used by India to create mistrust as Pakistan is trying to bring Taliban's to the table. On Afghan peace process his apprehension was that there might be a complete Taliban take over or worse a civil war, with implications for Pakistan, and Islamabad needs to play her cards very cautiously. However, the US having spent trillion of dollars in Afghanistan will not leave entirely withdraw from the place, and leave it for China and Russia. He further said that Pakistan has energy problems, infrastructure, social economic ones and CPEC should be wisely negotiated to help overcome these,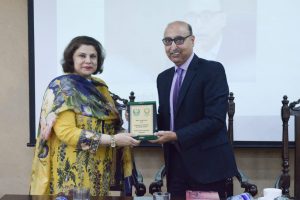 however we need to strengthen our institutions and to focus on our civilian institutions who have deteriorated over the years. In his concluding remarks he said that Pakistan needs to address the internal as well as the external challenges and that there is Fifth generation warfare between Pakistan and India whereby creating physiological problems where people have given up on Kashmir Issue and finally that Pakistan needs to strengthen her strong diplomacy abroad.