DEPARTMENT OF DEFENSE & STRATEGIC STUDIES VISIT TO MINISTRY OF FOREIGN AFFAIRS (MOFA)
Department of Defense & Strategic S
tudies visited Ministry of Foreign Affairs (MOFA) on December 6th 2019. Dr. Muhammad Faisal Director General South Asia, briefed the students about Pakistan's foreign policy and the embedded challenges to Pakistan in the contemporary world. While referring towards the geo strategic location of Pakistan, Dr. Faisal highlighted some regional and global challenges faced by Pakistan.
Currently, Pakistan is facing numerous challenges such as the Kashmir issue, India's belligerence, facilitating the US- Taliban negotiation process, avoiding future conflicts in Middle East& maintain peace & prosperity at regional and global sphere. Pakistan also wants to patch up its ties with US and we are also looking forward to have cordial relations with Russia as well.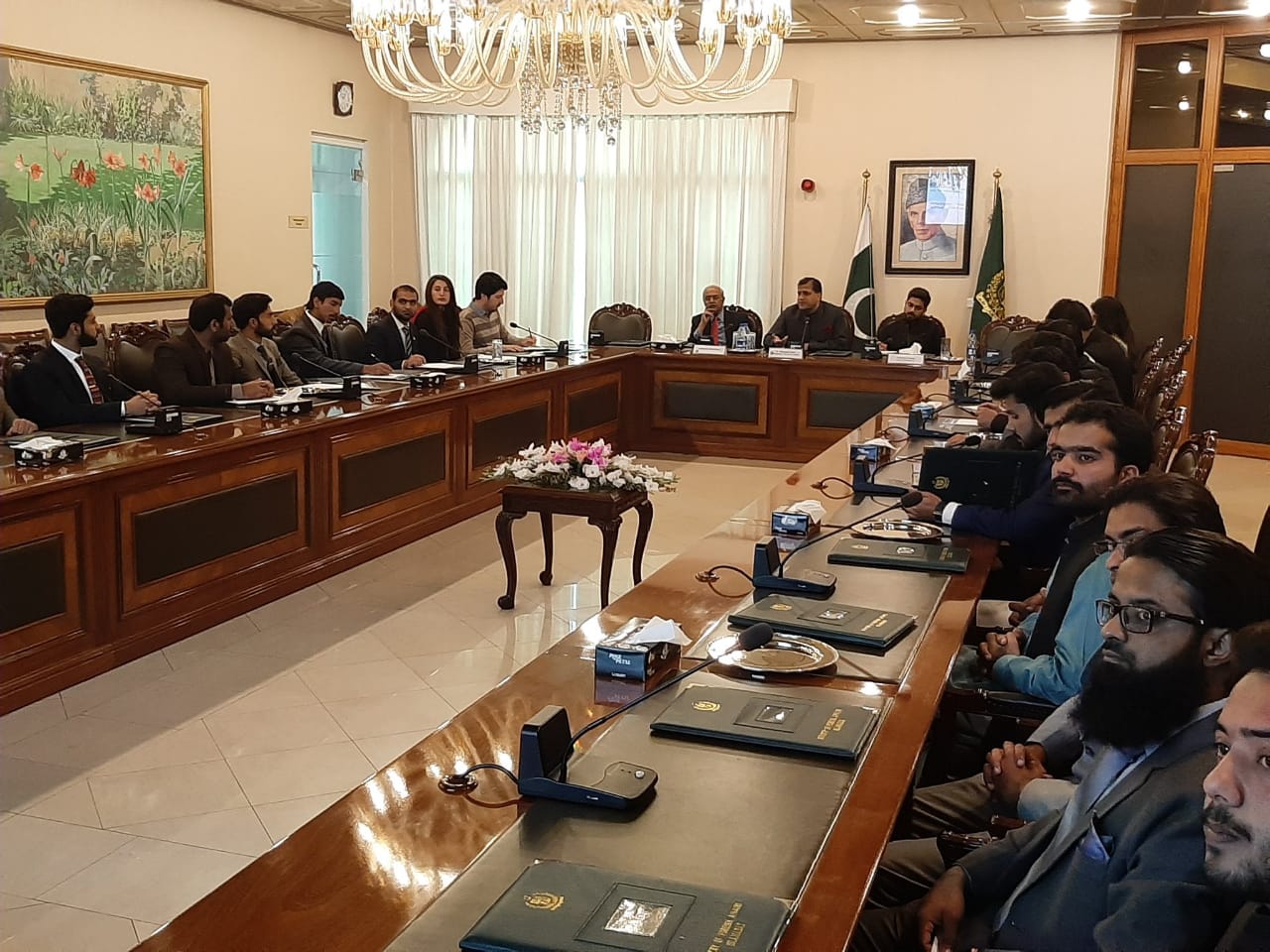 Questions pertaining to Pakistan's position at FATF, Pakistan's opening of African chapter, Post US withdrawal options for Pakistan, Pakistan's disengagement with regional countries, Kashmir issue and Pakistan's principle stance over the Uighur Muslim in China were asked from the speaker. Dr Faisal candidly answered that Pakistan is working to avoid being black listed at FATF, SAARC is a non-functional regional organization because of Indian aggressiveness. We are in complete contact with the Huriyet leaders and take inputs from them before taking any decision regarding Kashmir. On Uighur Muslim Pakistan's stance is clear that we don't interfere in any state's domestic affairs.  The African outreach would eventually benefit Pakistan at the diplomatic and economic front.  The session ended with a Thank You note by Dr. Nasrullah Mirza (Faculty DSS) and a group photograph with DG South Asia and Foreign Secretary SohailMehmood.