One day seminar on Continued Indian Aggressions & Struggle of Kashmiri People Since October 27, 1947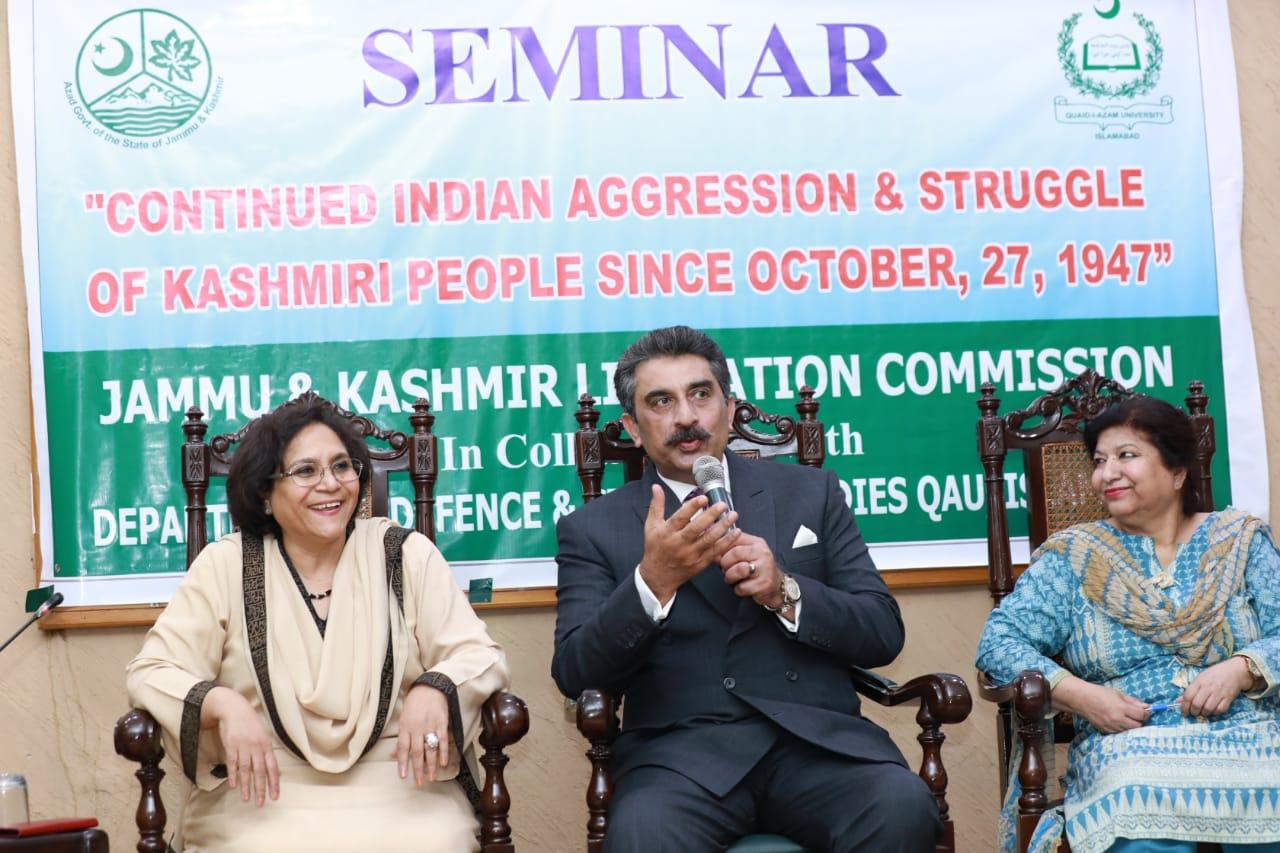 One day seminar on Continued Indian Aggressions & Struggle of Kashmiri People Since October 27, 1947 was organised by the DSS Department in collaboration with Jammu & Kashmir Liberation Commission on October 31, 2022. The Seminar was conducted in solidarity with our Kashmiri brothers and sisters and to remember the sacrifices laid down by the innocent Kashmiris since coming under the Indian occupation since October 27th, 1947. the seminar was graced by eminent academics, diplomats and policy makers as speakers.
The opening remarks were given by Mr Ejaz Hussain Lone, Secretary Kashmir Cause, Arts & Literature, AJK Governement. In his remarks, Mr Lone highlighted the illegal & immoral occupation of territory of Jammu & Kashmir and how India over these long decades has managed to manupilate the narrative in its favour despite a flawed and false stance. He highlighted how the black laws, revokation of Article 370 & 35-A and New Delhi's illegal unilateral elimination of the occupied territories special status has resulted in countless miseries for the people of Kashmir. He also highlighted how the silence and inaction by world community has emboldened New Delhi, which carries countless atrocities and violation of human rights with impunity.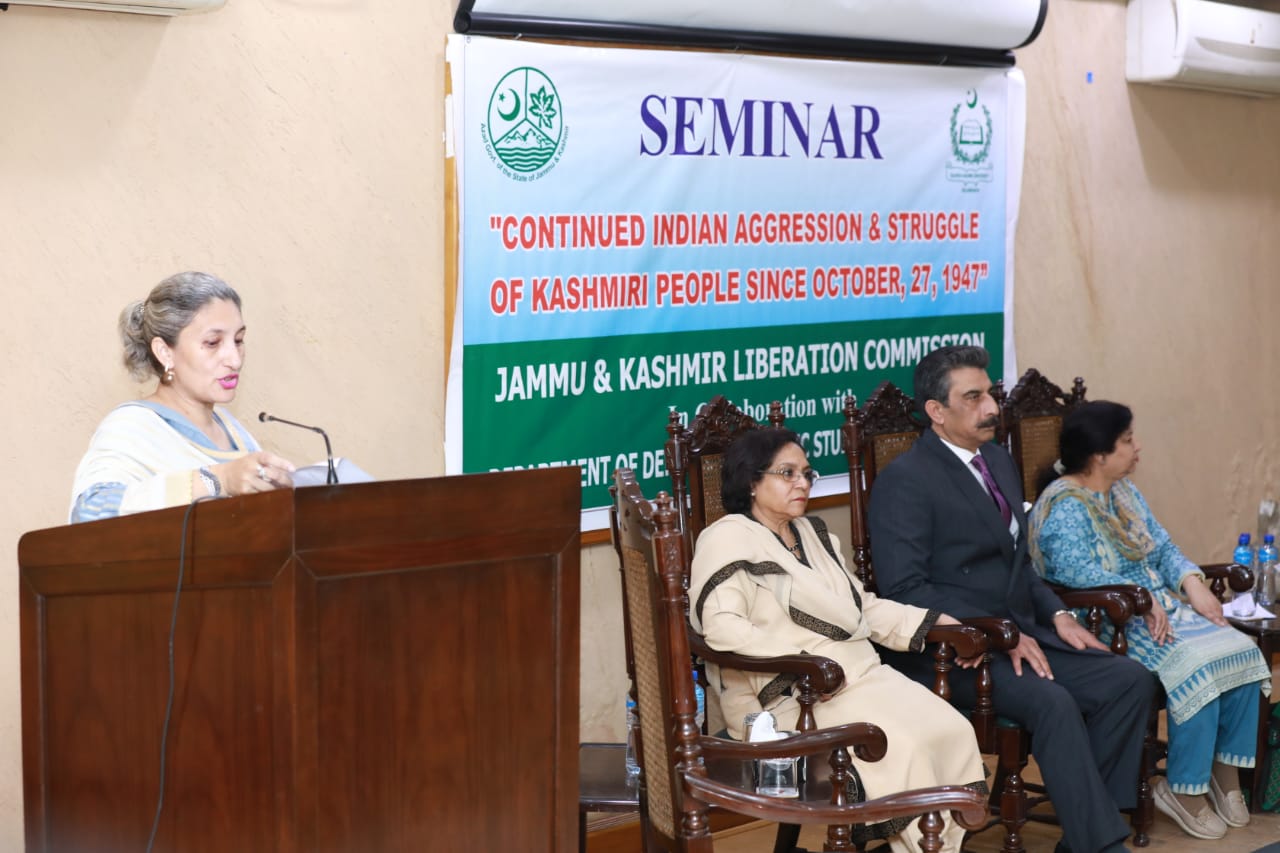 Dr 

Shaheen Akhtar

 professor of IR, NDU-Islamabad talked about disempowerment of Kashmiris under Indian Occupation, in which she highlighted how this process started as early as the 1950s, and what is significant about August 5, 2019 Indian actions is that Jammu & Kashmir, not only lost their special status, but also there is a systematic programme by New Delhi, through which the land, the people, institutions, history, culture, identity and means of sustaining and living are being destroyed. and in its place the Indian state is carrying out well-conceived demographic, soio-cultural, political and economic changes which will result in the loss of identity for the Muslims of Kashmir specifically under Indian occupation. Dr 

Shaheen

, was followed by Amb 

Naghmana Hashmi

, who looked at Indian Occupation to Annexation of Kashmir: Way forward for Pakistan and people of Kashmir. She not only highlighted the past, and the fate of the UNSC resolutions, but also smentioned the vagueness in Pakistan's policy towards the Kashmir issue. there is a need for unanimity of opinion and voice on Kshmir. She highlighted the major problems in a proactive pursuant of the Kashmir policy for Pakistan. furthermore, there is a need to reinitiate dialogue process with New Delhi, as only through peaceul dialogue can we find a way forward and resolve Kashmir issue.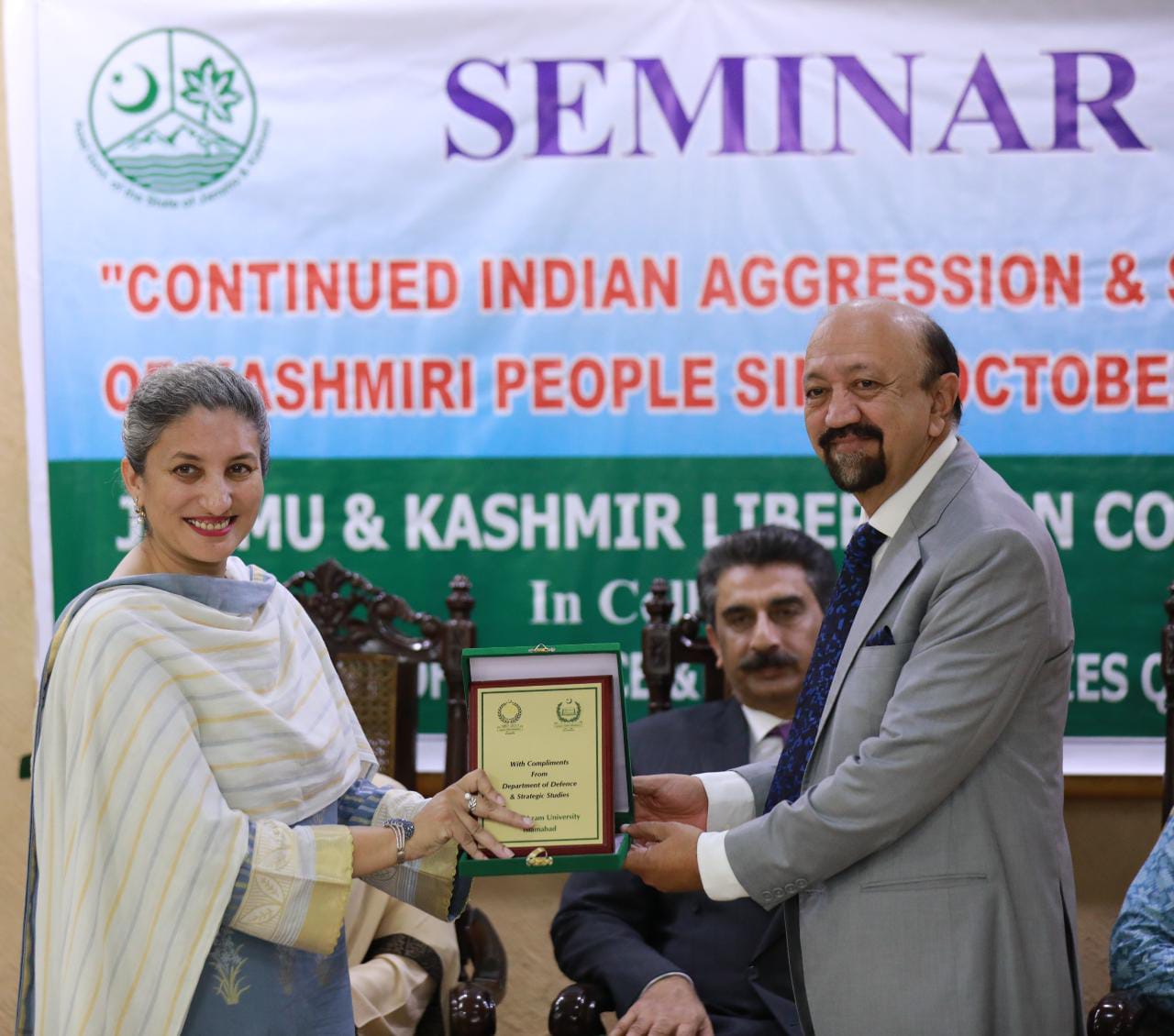 In his concluding remarks, Ambassador Ghalid Iqbal also examined introspectively the reasons for failure of Pakistan's Kashmir policy, he mentioned that besides several issues, India's progress in economics has and will have strong implications for Kashmir. the need is to recognise the inner failures and proactively pursue the cause.
The seminar concluded with a Q&A session in which the students and faculty participated. shields were distributed and the host and moderator Dr 

Salma Malik

 from DSS-QAU, thanked the speakers, audience and Raja Afsar Khan, Sardar Sajid and Mr Sarwar Gilgiti from JKLC for their collaboration.