Pak-Afghan Détente, Afghan Peace Process and the Way Forward
Department of Defence and Strategic Studies, Quaid-e-Azam University, in collaboration with Centre for Regional and Strategic Studies organized a seminar titled Pak-Afghan Détente, Afg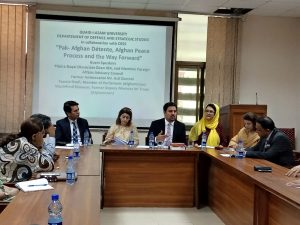 han Peace Process   and the Way Forward. The seminar was part of the track II diplomacy under the theme of "Beyond Boundaries" between Pakistan and Afghanistan. The visiting Afghan delegation members Mozammil Shinwari (former Minister for Trade, Government of Afghanistan) and Ilay Irshaad, and Dr. Huma Baqai (Member Foreign Affairs Advisory Council) were the speakers at the event.
While speaking on the occasion, Mr. Mozammil Shinwari stated that 9th round of negotiations between Taliban and the US has been started and people are expecting this a final one. However, negotiations have been kept secret and it is not yet clear when the US troops would go out? What would be the terms and conditions? Mr. Shinwari stated that the Kabul government has supported the negotiations but they have reservations. Because, at the end of the day, it is the Afghan government who will decide.
Mr. Shinwari op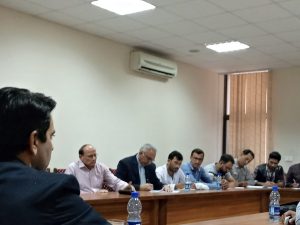 ined that the US is trying to get support of regional and other countries. Somehow, the US managed to get that support from international community. Zalmay Khalizad has been engaged in talks with all relevant stakeholders. Pakistan is also a key player and this time, Pakistan very openly said that we facilitated meeting between Afghan Taliban and the US. Adding further, Mr. Shinwari was of the view that the people of Afghanistan are not ready to compromise democracy in Afghanistan. They're not ready for Talibanization. They're not ready to compromise women empowerment, media freedom and the rights they're enjoying. They don't want to reverse the achievements of democracy in the past 18 years. Of course, Taliban are Afghan Taliban. They're part of Afghanistan, they should come, enjoy their rights but not impose their rule. Later, Ms Ilay Irshaad emphasized that we've lot of problems. These problems are destroying our country.  We must think that why only all Muslim countries have wars? Why all Muslim countries are in trouble? Why if two Muslim countries are fighting, we've to seek US support? Because we're not really close to each other. Dr. Huma Baqai was of the view that the situation is changing after a very long time. Today, Pakistan is on board, Afghan government is on board, although they want to move in a certain way. She remarked that the US has clearly signalled that the withdrawal would likely happen but the US support is likely to remain in Afghanistan. President trump is his interview to FOW news gave very intelligent response about US presence in Afghanistan that "the presence will be of intelligence". So, there are clear indications that the US would withdraw from combat position. She further opined that the US has suffered from strategic confusions in the past. At times, Washington used to say us to bomb Taliban and sometimes, to compel Taliban to bring them on the table. So, it was a very tight rope walking. She also remarked that Pakistan believes in an Afghan-owenrd and Afghan-led peace process. The ownership of this process must be proliferated to Afghan government to add sustainability in it. Dr. Baqai cautioned that the US can choose to cut and run but, Pakistan can't change its neighbors. Concluding her remarks, she stated that moving from strategic depth and strategic confusion, we're heading towards strategic restraint. Once there were problems and now, there is commitment to take very precarious peace process ahead.
She also curiously expressed that elephant in the room is India. And Pakistan can't afford strategic vulnerability. Pakistan reiterates that Our foreign policy has a geo-economic thrust. We're a geo-economic state.  Pakistan's mega-development project CPEC couldn't race ahead unless there is peace in Afghanistan and Balochistan. Therefore, we want functional relations with Afghanistan and even India, despite all that happens. Even in this tense situation, we kept Torkham border open. It's time to reciprocate, hold hands and move forward.
The session was also proceeded with an interactive Question & Answer session. In the end, Head of Department, Dr. Shabana Fayyaz expressed her gratitude to the worthy speakers for coming, discussing and exchanging ideas to move forward. She vowed that such discussions would probably enable us to undo our mistakes and seek possible ways to achieve our shared objective.